Bran Silveous and Brad Frazier are partners in the company overseeing all day to day operations of the company. They work in the field alongside our technicians to insure the highest level of service. Together we have over 45 years business experience and work well together servicing our client base in Central Ohio. We look forward to serving you!
We service all brands, makes and models. We install new Rheem, Mitsubishi, Goodman and Carrier equipment for both residential and commercial applications. 4 Seasons Air is a Premier Service Partner installer for multiple Lowe's stores. We currently install over 550 residential replacements per year and preventative maintenance on over 75 businesses. Let us have the opportunity to show your family or business just how affordable high efficiency equipment can be with residential financing or commercial leasing. We accept most major credit cards as well as personal checks.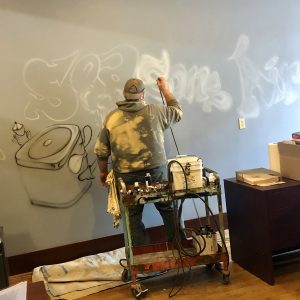 Our main office building is very unique as it is from the 1890's. It has since been remodeled with the touch of our character keeping an "old building" feel.  The interiors walls are all done in rough cut oak.  We have added a mural painting that reflects the inside jokes and members of our company that gives the office some personality. This is just one thing that makes us stand out from the rest. This mural was done by one of our former employees, Rick VanHorn of MVOpaint.com.  We have a second building right behind our office that houses our sheet metal and shipping/receiving.
4 Seasons Air, LLC
17 East Main Street
Centerburg, OH 43011
Phone: (740) 480-8080
Office Hours:
Mon - Thur 7:30am - 4pm
Friday 7:30am - 3pm
24hr Emergency Service Available
Products
Furnace, Air Conditioning, Heat Pump, Mini Splits, Oil Furnace, Water Heaters, Thermostats, Humidifiers, Zoning